WITH YOUR ORDER GET THE E-BOOK AS A BONUS
Get a FREE Be Wholey You book shipped to you, plus instant access to the e-book so you don't have to wait to read! We'll ship you as many books as you want (just pay shipping on each one & save on bundles).
These make the perfect gift! Because seriously...what better gift could you possible give other than helping someone you love get pieces of their soul back?!?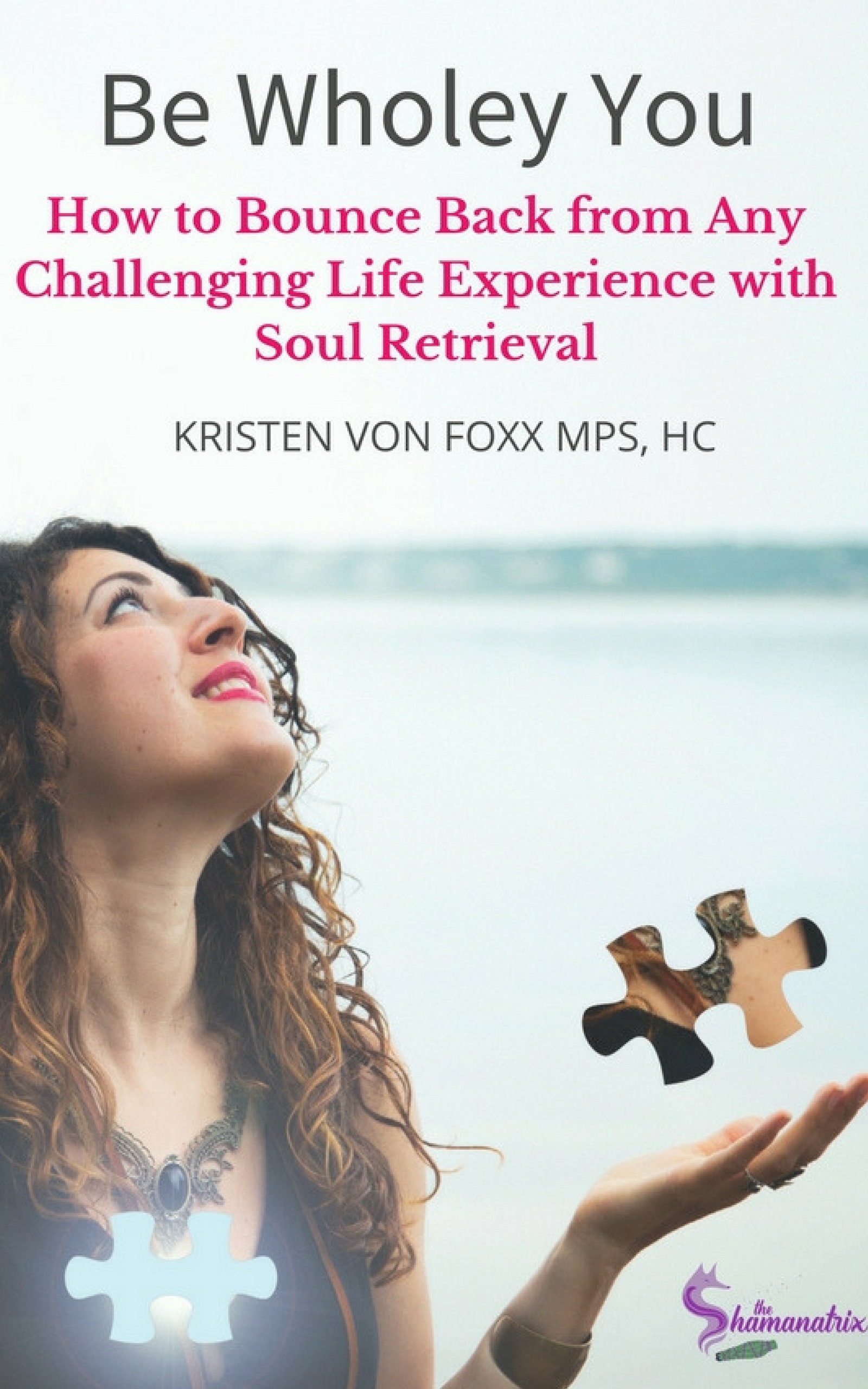 How to Bounce Back from Any Challenging Life Experience with Soul Retrieval
A FREE Book by Soul Retrieval Specialist Kristen Von Foxx, MPS HC
I created this book as a tool for empowerment because It's my mission to inspire those who've been through trauma to discover the power they can alchemize from that healed wound. Soul retrieval has been around for over 40,000 years and indigenous tribes regularly used this technique to help their people regain their health, vibrancy and power. In recent centuries we've disconnected from these powerful ancient practices and—as a result—generations of our ancestors have experienced trauma, become sick and disempowered, and then past those cycles of trauma down to us.
With all the tools and technological advances, we can now share these powerful techniques for healing easily, from a modern day integrated perspective to change the pattern of negative cycles into opportunities to change the old stories.
We can feel happy and balanced..…like whole humans again.
Soul retrieval has given me a second shot at life and has helped me step into my power to shift these old cycles of trauma. Now I want to share these powerful techniques with you too. I believe in these ancient techniques so much I want to give you the gift of self-empowerment for free in my book!
Other self help books out there on positive thinking and the law of attraction are helpful in their own right, but it can be hard to focus on the good life has to offer, and attract new patterns that you desire, if YOUR VIBRATION is weakened by trauma. If a PART OF YOU IS MISSING—the part of you that is say confident, joyful, self-loving, and positive—then it can feel almost impossible to get much out of these self help techniques.
If what you're really missing are important parts of your soul then the fastest, most powerful way to shift your life is by GETTING YOUR LOST SOUL PARTS BACK.
From your boss. From your ex-wife. From your abusive, mean-spirited father. From those kids who made fun of you, from the guy who date-raped you. From the friend who betrayed you. From the guy who broke your heart.
See, THESE are the MISSING PARTS OF YOUR ENERGY that are holding you back, making you feel stuck, sad and like your missing your power. And getting these parts back can be EASY, EMPOWERING and LIFE CHANGING.
And I'm going to show you how in my book Be Wholey You.
Because if I can do it—get my power back from the church, from the man who raped me for years, from a sociopath who duped me and took advantage of my kindness, from the traumas of my past, THEN SO CAN YOU.
And it's easier then you think. And as EMPOWERING AF.
In Be Wholey You, You'll Learn:
Soul Loss You'll learn about the most common symptoms of soul loss.
How the soul becomes wounded and energetically separates from the body.
Shamanism How shamans have used the practice of soul retrieval for centuries.
Soul Retrieval How soul retrievals work, illustrated through a series of real case studies.
Past Lives/Ancestral Healing How soul losses in past lives and ancestors' lives affect your energy now.
DIY Excercises How to perform easy, at home exercises to call your power back.
This book is my free gift to you.
All you need to do is cover the $11.99 for shipping and handling so I can ship it to you- anwhere in the world. I want you to have this gift of healing! There is not a catch, no fine print, no clause you are missing. It's free from me to you, and I can tell you there is no profit in this for me outside of believing this technique is powerful and wanting to make it available for others who are yearning for their vitality and the lost soul parts of themselves to come home.
So what's in it for me? Why would I do this? Because I believe in this ancient healing technique because of how it's empowered my life. I want to make this same healing work available to you because I don't believe these practices should stay lost and hidden any longer. And because I believe you're worth it. I believe that this book will make a true and lasting positive impact on your life. And because I'm no longer willing to hide my light under a rock or let you do the same thing either. I believe that we all rise together. That my healing can become your healing if I share it, and share how. And because I wish I'd known about soul retrieval longer, I wish I had it as a tool when I was a kid, during all those years of suffering. And it's time to speak up and share these gifts with the world, and with you, so you too can have a better life!
It's Time To Take Massive Action.
Here's why... I'm only printing a small amount of copies of this book, and then we will be charging full price for it. We have never done anything like this before and it feels like a risk but again, you are worth it to me! I am committed to your growth and freedom so I have decided to take my giving to the next level. For these reasons, I don't know how long this offer will be available so take advantage today.
My Personal Guarantee To You...
My guarantee to you is that these habits, when implemented, will make a difference in your life. I know when you take action, you'll get results. Because you're soul parts desperately want to come back to you too! These are the same practices ancient civilizations are the world have been using for generations and the same techniques I have followed time and time again for the last 7 years that have enabled me to get my power back, heal others with this work, and lead others towards their empowerment. Click the button below to get your FREE copy now. You'll be glad you did.
See what readers are saying about Be Wholey You…
Shamanic practitioner, author and speaker, The Shamanatrix, Kristen Von Foxx empowers individuals who've been affected by trauma to reclaim their power through an ancient healing modality called soul retrieval. She combines psycho therapeutic practice, holistic nutrition and art therapy with shamanic healing techniques from indigenous societies to assist individuals in personal transformation. It's become Foxx's personal mission to educate, inspire, and empower those who've been touched by all forms of trauma to reconnect with their power through the use of indigenous wisdom and healing.